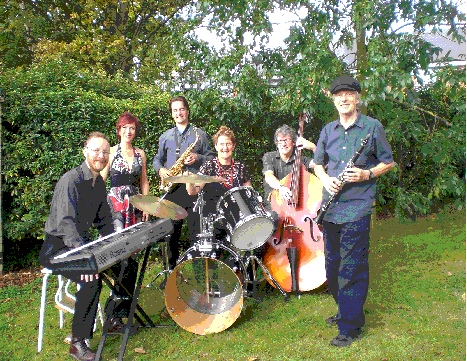 Jazz Wave jazz band: forthcoming gigs
Friday May 1 : The Coach House pub, 9 - 11 pm
Free admission. 18 High Street, St. Neots PE19 1JA Tel: 01480 386451
Saturday May 2: The Red Lion pub, 7.30 - 9.30 pm
Free admission. 27 High Street, Histon, Cambridge CB24 9JD Tel: 01223 564437
Saturday May 16: Dry Drayton Village Hall. 7 - 10 pm
Ticket admission. Tel: 01954 789 525
Friday May 22: The Old Bull pub, Royston 7.30 - 10 pm
Free admission. 56 High Street, Royston, Hertfordshire SG8 9AW. 01763 242003
Sunday June 21: the Red Lion pub, Kirtling Green, 5 - 7.30 pm
Free admission. 214 The Street, Kirtling, Newmarket, Suffolk CB8 9PD 01638 731976
And don't forget the regular weekly jam sessions -
Tuesday jam sessions
: every Tuesday, 8.30 - 11 pm
Duke of Cambridge pub
176 East Road, Cambridge CB1 1BG Tel: 01223 304121
Video - Jazz Wave live at The Boathouse
Jazz Wave in the studio: Demonstration tracks
Jazz Wave jazz band is based in Cambridge and plays regularly in the city and in the neighbouring region. We make regular appearances at Cambridge bars and pubs. We play at private parties and weddings. We provide a mixture of vocals and instrumentals centred on mainstream and swing jazz, with excursions into Dixie, funk and pop. We know how to get people up dancing, and we are always happy to tailor our sets to what the audience wants !
The full lineup is : singer, clarinet, sax, piano, bass, drums. We can also field smaller groups (e.g. clarinet, guitar, bass) for more intimate sounds and smaller spaces.
Contacts:
Mike Quigley 07979 59 22 41
mike@jazzwave.net
Demonstration CD available.