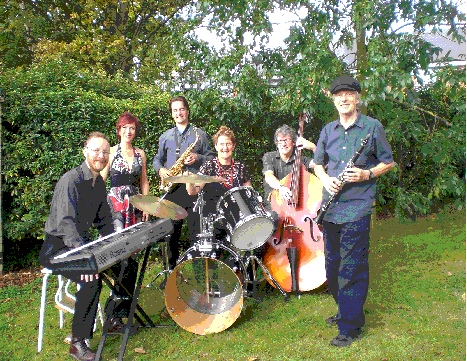 Jazz Wave jazz band
Forthcoming Gigs:
Sunday 30 August 2 pm onwards
The Red Lion Inn, 214 The Street, Kirtling
near Newmarket, Suffolk, CB8 9PD
Tel: 01638 731976
Pop up beer festival with an afternoon of jazz and an evening with a guitar duo, 5 beers and 4 ciders, BBQ, bouncy castle and more. Something for everyone!

Jazz Wave jazz trio plays popular standards from the great American songbook and mainstream jazz.
Video - Jazz Wave live at The Boathouse
Jazz Wave in the studio: Demonstration tracks
Jazz Wave jazz band is based in Cambridge and plays regularly in the city and in the neighbouring region. We make regular appearances at Cambridge bars and pubs. We play at private parties and weddings. We provide a mixture of vocals and instrumentals centred on mainstream and swing jazz, with excursions into Dixie, funk and pop. We know how to get people up dancing, and we are always happy to tailor our sets to what the audience wants !
The full lineup is : singer, clarinet, alto sax, piano, bass, drums. We can also field smaller groups (e.g. clarinet, guitar, bass) for more intimate sounds and smaller spaces. Click below for -
Contacts:
Mike Quigley 07979 59 22 41
mike@jazzwave.net
Demonstration CD available.